---
Life tends to move a bit more slowly on Prince Edward Island, or PEI as locals refer to it.
While bustling with visitors in the summer months, the island province reverts to its quieter self come fall, and an economy driven by agriculture (potatoes) and fishing rather than tourism.
PEI can be likened to one big community during these times of the year, with Charlottetown serving as city center and the outlying towns acting like neighborhoods. Everyone seems to know each other on the island, and even if they don't, they probably know who your mother, father or sibling is.
In many ways, PEI has made the jump into the present state of technology, and this extends to cell phones. Locals wield their smartphones as readily as Quebec or Montreal residents and, accordingly, expect strong cell phone coverage. Carriers have recognized this, and provide excellent coverage to the province.
Coverage in Price Edward Island At-a-Glance
Coverage in Price Edward Island is quite strong overall, earning a score of 75 out of 100.
What we love
Coverage from Telus is amazing
Coverage from Bell is just as good as Telus
What could be improved
Freedom Mobile does not offer service in Price Edward Island
Coverage can be a bit spotty in select area regardless of the provider
Three out four of the top carriers offer amazing coverage in Price Edward Island.
Coverage by Network in Price Edward Island
Numbers on a page are one thing, but the coverage maps tell the full story. Fortunately, you don't have to go to all of the carriers' websites to get this information--you can see what the coverage is like from the four majors below:
---
The maps confirm that Telus, Bell and Rogers provide the most robust coverage to Prince Edward Island. Freedom Mobile's coverage, unfortunately, is non-existent.
Big Carriers vs. Small Carriers in Price Edward Island
Did you know that there are dozens of small carriers that run on the major networks, but charge a fraction of the price for service? These companies are known as Mobile Virtual Network Operators, MVNOs for short. MVNOs purchase network service from the major providers at wholesale prices, then pass the savings on to consumers.
If you're interested in Telus's coverage, for example, but are looking for a better deal, PC Mobile, Koodo, Public Mobile, and PhoneBox are just a few of the smaller providers you'll want to check out.
Getting the Best Plan & Coverage
WhistleOut's new coverage check feature supercharges an already robust comparison engine by allowing you to instantly see what coverage is like at your location. All you have to do is punch in your address and we do the rest. This feature is the first of its kind, and empowers consumers to make better decisions when it comes to wireless. If you need help figuring out how to use it, the GIF below should help: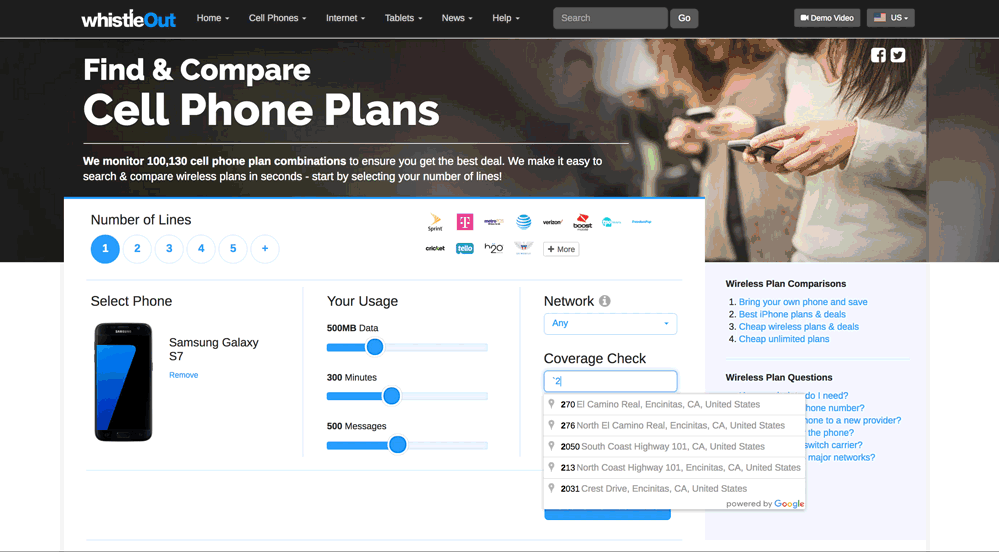 Checking coverage at an address in Encinitas across Sprint, T-Mobile, Verizon and ATT networks
In addition to showing you a map of your area with the coverage from all four major carriers, we filter through the available cell phone plans and present only those from carriers who provide good reception to you.
---