---
Newfoundland and Labrador has always marched to the beat of its own drum, due in no small part to the days when it served as a self-governing state of the British Commonwealth, separate from the rest of Canada.
N&L residents know that it's hard to put into words the strangeness and beauty of their province's landscape; it's kind of just one of those things you have to experience. It's a bit easier to come up with adjectives for the province's citizenry: pragmatic, friendly, and fiercely independent.
So how's the cell phone coverage in Newfoundland and Labrador? On the whole, not amazing. That said, coverage depends largely on which carrier you're with, and where you are located in the province. Read on to learn more.
Coverage in Newfoundland At-a-Glance
Coverage in Newfoundland is leaves room for improvement, earning a score of 37 out of 100.
What we love
Coverage from Telus is fair to good depending on location
Bell has similar coverage as Telus, fair to good
What could be improved
Rogers need to improve coverage in this Province
Freedom Mobile does not provide coverage to Newfoundland
Telus and Bell generally provide the best coverage in Newfoundland, followed by Rogers.
Coverage by Network in Newfoundland
Numbers on a page are one thing, but the coverage maps tell the full story. Fortunately, you don't have to go to all of the carriers' websites to get this information--you can see what the coverage is like from the four majors below:
---
The map is pretty clear on who has the best coverage, although the winner is not clear. If you are hoping to get the best coverage in Newfoundland, we suggest taking a closer look at Telus or Bell. You'll be glad you did.
Big Carriers vs. Small Carriers in Newfoundland
Can you believe there are dozens of small carriers that run on the major networks? If you can believe that, you should check out some of these MVNOs, or Mobile Virtual Network Operators. MVNOs purchase service from top dogs in the industry and resell them a much cheaper monthly rates.
For example, if you're interested in Rogers's coverage, you should also check out the other carriers who run off the Rogers network such as 7-11 SpeakOut, Fido, Petro, Chatr, and Cityfone
Getting the Best Plan & Coverage
WhistleOut's blazing coverage check feature allows you to see what carrier will give you the best coverage at your home. It's almost too easy. Lob in your address, run the search results, view the coverage map, compare the best plans, buy happy.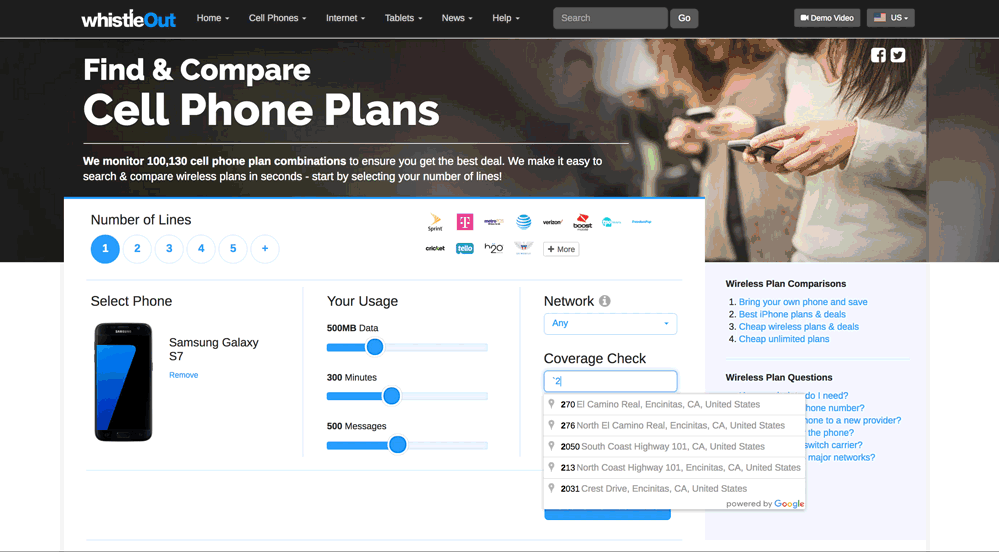 Checking coverage at an address in Encinitas across Sprint, T-Mobile, Verizon and ATT networks
In addition to showing you a map of your area with the coverage, don't forget to use the super smart filtering options so you can narrow down your search to what you really need.
---