---
Home to winding rivers, pine forest, gentle mountains and the stunning Bay of Fundy, the province of New Brunswick is surprisingly geographically diverse given its diminutive size.
Not only is New Brunswick chocked full of unspoiled wilds, but generally decent cell phone coverage. The majority of the major carriers cover over 75% of the province, meaning that you're likely to find reception no matter where you are, depending on which network you're on.
The coverage situation is of course a bit nuanced, so read on to learn more about who provides the best cell phone coverage in New Brunswick, and where.
Coverage in New Brunswick At-a-Glance
Coverage in New Brunswick is quite strong overall, earning a score of 58 out of 100.
What we love
Bell has the best coverage for this Province
Telus is right on Bell's heals with a strong network as well
What could be improved
Freedom Mobile is not in this area
Rogers has comparible network strength and service as Telus & Bell, just not as strong
Bell, Telus, and Roger provide great coverage to New Brunswick. Freedom, meanwhile, forgets to show up to the party.
Coverage by Network in New Brunswick
Numbers on a page are one thing, but the coverage maps tell the full story. Fortunately, you don't have to go to all of the carriers' websites to get this information--you can see what the coverage is like from the four majors below:
---
Since three out of the four carriers offer similar coverage, there is no clear coverage victor in this New Brunswick. If you're trying to decide on a carrier, Telus, Rogers, and Bell are all solid choices.
Big Carriers vs. Small Carriers in New Brunswick
For your info: There are dozens of small carriers that run on the major networks. These carriers are called MVNOs for short and "Mobile Virtual Network Operators" long. MVNOs purchase network service from the major providers and that's where you come in.
If you're interested in Telus's coverage, for example, but are looking for a better deal, PC Mobile, Koodo, Public Mobile, and PhoneBox are just a few of the smaller providers you'll want to check out.
Getting the Best Plan & Coverage
WhistleOut's new coverage check feature is an epic search engine that will show you what carriers cover your address. Once you run your search, we'll filter through the available cell phone plans and present only those from carriers who provide good reception to you.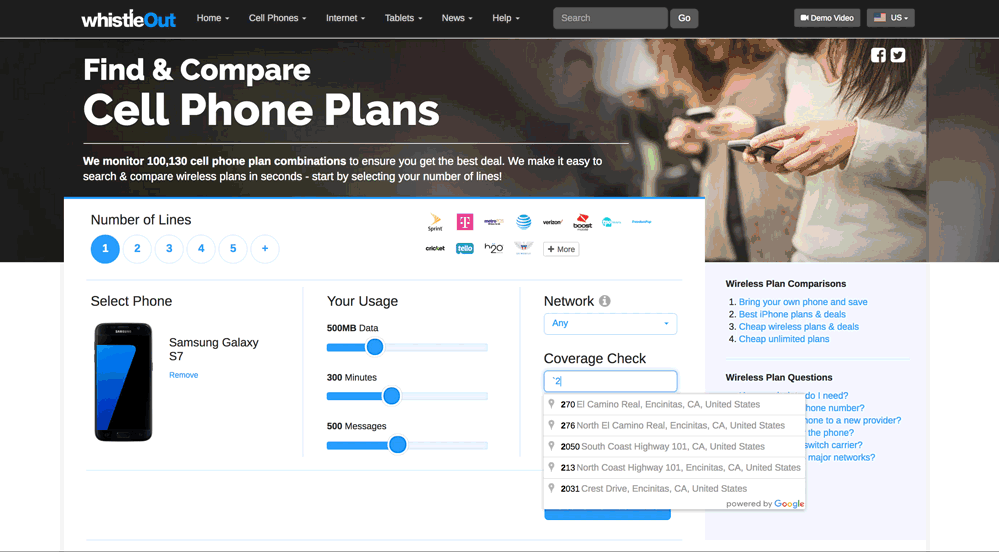 Checking coverage at an address in Encinitas across Sprint, T-Mobile, Verizon and ATT networks
Finding out coverage is super easy... enter your address, run the search, compare results, buy happy.
---