---
Smack dab in the middle of Canada you'll find Manitoba, home to some of the most stunningly beautiful terrain in the world.
Nearly half of this still largely rural province is made up of forest; there's also over 100,00 lakes. In the northern part of the province sits unspoiled Hudson Bay, occupied by 25,000 beluga whales; even farther north lies Wapusk National Park, the world's largest denning site for polar bears.
Given the vastness of Manitoba and how spread out its occupants are, getting an adequate cell phone signal can be a challenge. That's where our network coverage map comes in. Read on to learn how to use it and to find out more about the best cell phone coverage in Manitoba.
Coverage in Manitoba At-a-Glance
Coverage in Manitoba is a bit rough, earning a score of 14 out of 100.
What we love
Rogers will likely provide you with the strongest network coverage
Most major cities are covered
What could be improved
Freedom Mobile does not service the Province of Manitoba
Telus and Bell has very poor coveage overall
Rogers provides the most robust coverage in Manitoba, with Bell and Telus trailing far behind. Freedom, meanwhile, forgets to show up to the party.
Coverage by Network in Manitoba
Numbers on a page are one thing, but the coverage maps tell the full story. Fortunately, you don't have to go to all of the carriers' websites to get this information--you can see what the coverage is like from the four majors below:
The maps confirm that Rogers provides the most robust coverage in Manitoba, followed by Bell and Telus.
Big Carriers vs. Small Carriers in Manitoba
There are several cell phone providers that run off the top level carriers called MVNOs for short. These MVNOs purchase network service for discounted rates and resell them to customers.
For example, if you're interested in Rogers network, you should also check out 7-11 SpeakOut, Fido, Petro, Chatr and Cityfone. These carriers all run off of the Rogers network so you can get the same great service without the hefty price tag.
Getting the Best Plan & Coverage
Our new coverage check gives Manitobans an upper hand when purchasing a new cell phone plan. Use the map to see what carriers offer you the best service and then compare all the best plans from that carrier's network.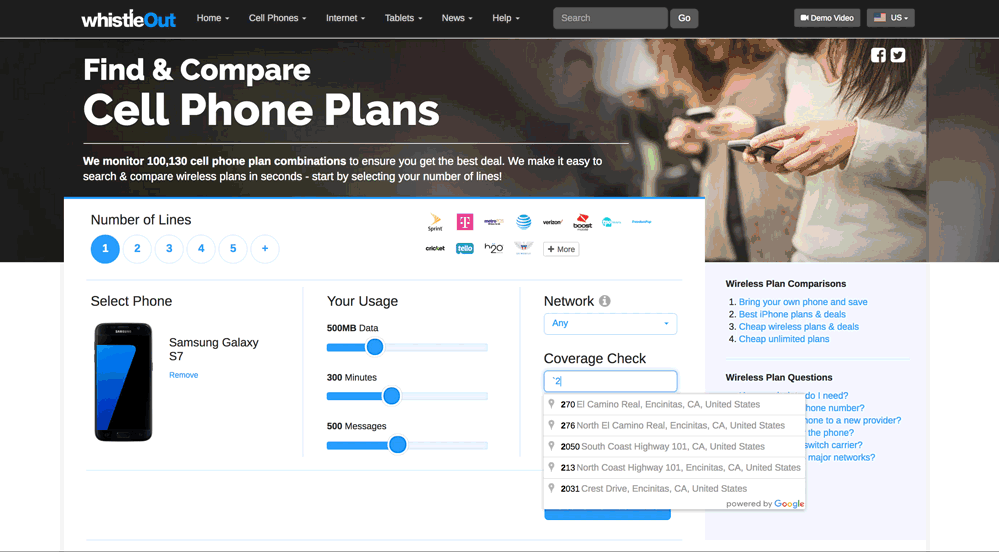 Checking coverage at an address in Encinitas across Sprint, T-Mobile, Verizon and ATT networks
Don't forget to use the filtering options to narrow down your search and pick the perfect plan.
---