---
Given that Ontario is home to 40% of Canada's population, it's remarkable how much of it is comprised of unpopulated wilderness.
Take for example the Canadian Shield, which makes up over half the province's land area: this thinly populated region is dominated by forests, lakes and rivers, and only the occasional town. Meanwhile, the Hudson Bay Lowlands in the extreme north are virtually unpopulated and consist of vast wetlands.
It's easy to forget all of this when you're spending time in Toronto, a bustling, cosmopolitan hub of business, science and education. Canada's largest city is also a true cultural melting pot, attracting visitors and transplants from all over the world.
Whichever part of Ontario you're in, you likely place great importance on getting an adequate cell phone signal from your carrier. While the coverage scores below may appear low, that's because they take into account the vast wilderness areas of the province in addition to the cities. The coverage picture in Toronto will likely be far different than in small town northwestern Ontario. Read on to learn more.
Coverage in Ontario At-a-Glance
Coverage in Ontario earns a score of 25 out of 100.
What we love
Coverage from Telus and Bell are similarly excellent
Rogers is in 3rd place with decent coveage
What could be improved
Rogers should expand their coverage to more areas
Freedom needs more towers to have stronger coverage
All four major carriers are represented throughout the Ontario, some offering better service than others. Take a look at the percentage covered by each carrier to get an idea of who has the best coverage.
Coverage by Network in Ontario
Numbers on a page are one thing, but the coverage maps tell the full story. Fortunately, you don't have to go to all of the carriers' websites to get this information--you can see what the coverage is like from the four majors below:
---
The maps confirm that Telus, Rogers, and Bell all have fair to decent coverage, with Freedom Mobile bringing up the rear.
Big Carriers vs. Small Carriers in Ontario
Fun fact: Most of the main four carriers in Canada offer their minutes, texts and data to smaller carriers. These smaller carriers are called MVNOs for short. Essentially, MVNOs buy network service from the top tier carriers giving customers a chance to save money on the same amazing network.
If you're interested in Telus's coverage, for example, but are looking for a better deal, PC Mobile, Koodo, Public Mobile, and PhoneBox are some of the smaller providers offering these services.
Getting the Best Plan & Coverage
WhistleOut's new coverage check feature supercharges an already robust comparison engine by allowing you to instantly see what coverage is like at your location. All you have to do is punch in your address and we do the rest. This feature is the first of its kind, and empowers consumers to make better decisions when it comes to wireless. If you need help figuring out how to use it, the GIF below should help: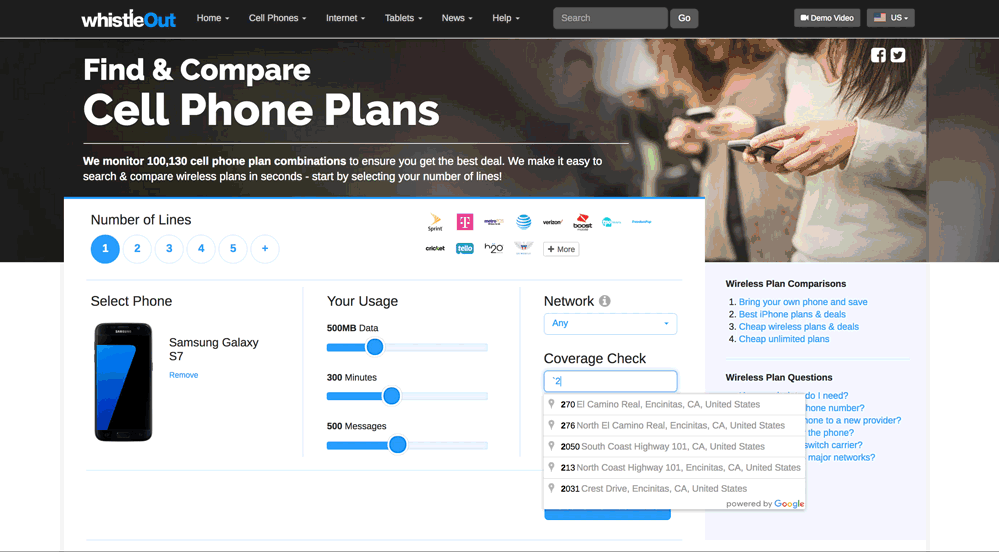 Checking coverage at an address in Encinitas across Sprint, T-Mobile, Verizon and ATT networks
In addition to showing you a map of your area with the coverage from all four major carriers, we filter through the available cell phone plans and present only those from carriers who provide good reception to you.
---