---
Occupying Canada's Pacific seaboard and dominated by the soaring Rockies, British Columbia offers its four million residents a lot to do and see.
Over half of British Columbians live in the Vancouver metro region, making the city a true hub of industry, technology and culture. Plus, you're unlikely to find many cities as picturesque.
With so much of the province outside of Vancouver dominated by rural, wild areas, it's not surprising to learn that cell phone coverage isn't the best throughout British Columbia. That said, the reception you receive will depend largely on where you are exactly in BC, and which carrier you're with. Read on to learn more.
Coverage in British Columbia At-a-Glance
Coverage in British Columbia leaves much room for improvement, earning a score of 23 out of 100.
What we love
Coverage from Telus & Bell have the best coverage
Rogers is not far behind Telus & Bell in terms of coverage
What could be improved
Freedom has minimal coverage - best to avoid
Many mountain and wilderness areas are not coverage
The top four major carriers are represented throughout British Columbia, as are a multitude of smaller carriers that run on their networks. Telus, Rogers, and Bell generally provide the best coverage in British Columbia, followed by Freedom Mobile.
Coverage by Network in British Columbia
Numbers on a page are one thing, but the coverage maps tell the full story. Fortunately, you don't have to go to all of the carriers' websites to get this information--you can see what the coverage is like from the four majors below:
---
As the map shows, Telus and Rogers lead the way for coverage in BC, followed by Bell. Freedom, meanwhile, barely shows up to the party.
Big Carriers vs. Small Carriers in British Colubia
If you're on more of a budget but still want the same network coverage as a top lever carrier, we think using an MVNO is a smart bet. These carriers run off of a top level carrier network to provide their customer with quality service but at a more affordable price.
For example, if you find you Rogers coverage to be what you need but the pricing is a bit too high, you can use a carrier that runs off of Rogers and offers cheaper monthly plans. You can switch to PC Mobile, Koodo, Public Mobile, and PhoneBox as these providers all use the Rogers network to deliver service to their customers.
Getting the Best Plan & Coverage
Our new coverage check is a sweet tool that will help you stay connected. Find the right plan is super easy. Simply enter in your address and we'll show you plan you can purchase that support your Province. If you want to view the map, scroll to the bottom of the page to see who has the best network coverage at your address today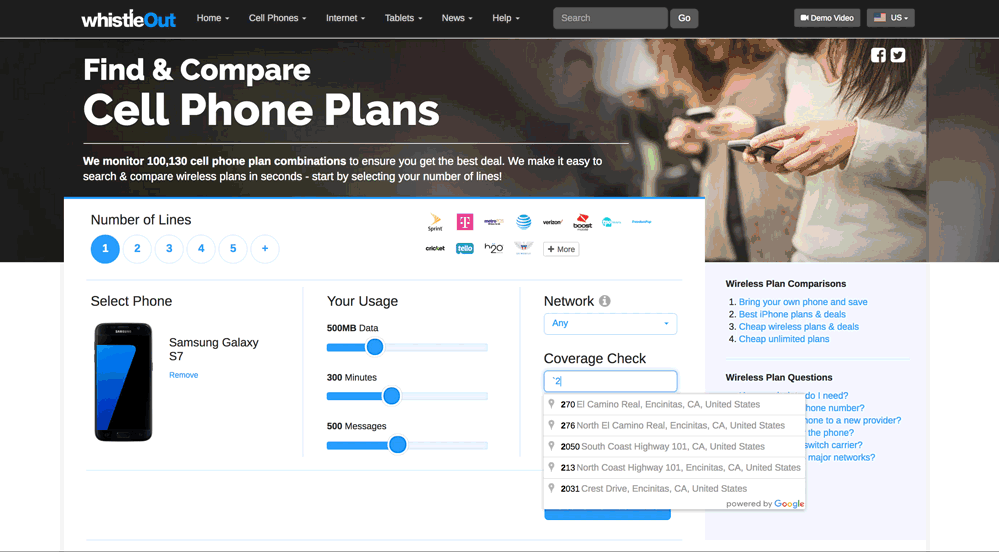 Checking coverage at an address in Encinitas across Sprint, T-Mobile, Verizon and ATT networks
Once you search your address, don't forget to use our smart filtering options to narrow down your search results. That way you'll get the best cell phone plan in BC.
---